Shimla - Delhi Train Guide
Click here for Information about the Shimla - Kalka mountain railway
The best method to travel between Shimla and Delhi is by train. The route involves two trains with a connection at the bland city of Kalka. The train from Delhi to Kalka is a typical Indian express train, while the train between Shimla and Kalka is a highlight of any visit to Shimla. The Shimla narrow gauge train slowly winds around the foothills of the Himalayas passing through countless tunnels and bridges while providing spectacular views for passengers.
Tourist Guide Shimla - Delhi Train
Strangely the station name for Shimla on the Indian railways website is Simla (without the H) the station code for Shimla is SML while the station code for Kalka is KLK. Please be aware of the departure station from Delhi as all three trains depart from different stations. All of our train codes are aligned with the new 5 digit Indian Rail numbering system (unlike many other websites!).
Another twist on the Shimla railway
Purchasing tickets on the internet via the Indian railways website can be a chore, as the train number (5 digit) depart station code, arrival station code (both given in table at end of this guide) along with the seating class must be entered. The Kalka to Shimla train line is a narrow gauge line and the trains slowly claw up the mountains while the intercity bus services are faster but less enjoyable.
Delhi to Shimla
There are two possible options for trains from Delhi to Shimla, one involves a night sleeper or the other a very early start in the day. For the Kalka to Shimla Himalayan Queen train (train number 52455) there are two possible trains to catch from Delhi but the advised option is the Himalayan Queen (14095) as it is designed to have a connection with the Shimla Himalayan Queen (52455).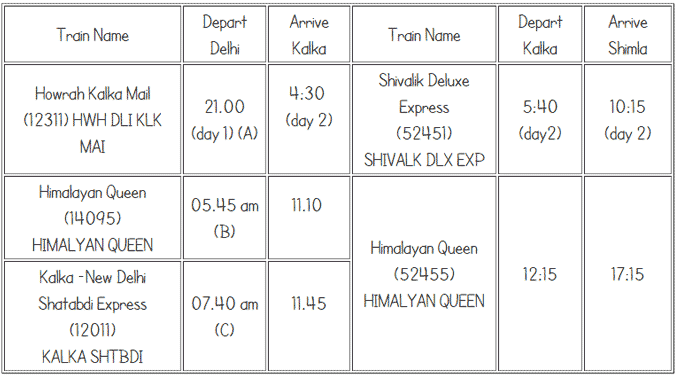 A – Train departs from Old Delhi station, station code DLI
B – Train departs from Delhi Rohilla station, station code DEE
C -  Train Departs from New Delhi Station, station code NDLS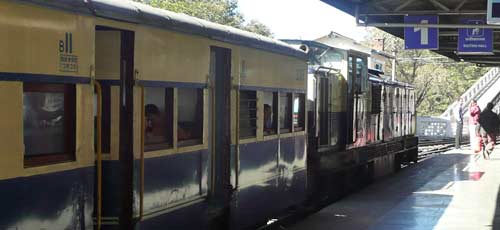 The mini train from Shimla heads down the mountains
Shimla to Delhi
There are two train options which depart from Shimla either the Himalayan Queen which arrives at Delhi in the middle of the night or the Shivalik Deluxe Express which involves a night train. The Shivalik Deluxe Express is a faster option as it does not stop at each of the small stations on the route down the hills but costs more than the Himalayan Queen. It is advisable to pre-book accommodation if you are arriving into Delhi late at night as the city can be very over whelming.
A - Train arrives at New Delhi Station, station code NDLS
B - Train arrives at Delhi Rohilla station, station code DEE
C - Train arrives at Old Delhi station, station code DLI
Shimla India Navigation