Shimla - Kalka Railway Narrow Gauge Train
Click here for a guide to the Shimla Delhi Train Services
One of the highlights of a visit to Shimla is the spectacular train journey from the flat plains of Kalka to the heights of Shimla. This narrow gauge train slow creeps up the 96km route at an average climb of 3%, almost unheard of by rail routes. The Final station at Shimla is 1420 meters higher than the station at Kalka. The Kalka-Shimla railway line snakes around the sides of mountains providing stunning views of the Himalayan foothills.
Shimla - Kalka Railway Information
The entire route is preciously balanced on the side of massive hills with a staggering 806 bridges to cross and 103 tunnels to pass through. No wonder the Kalka-Shimla railway was called the British Jewel of the Orient when constructed in 1903. In 2008 the entire railway was given UNESCO World Heritage Site statues.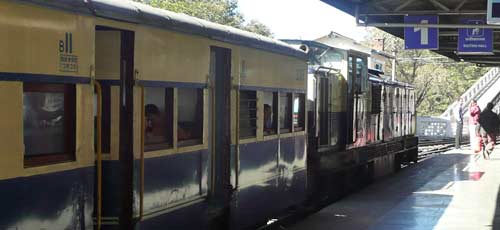 The mini train from Shimla heads down the mountains
This wondrous feat of engineering is not just a novelty of the region. The railway is the fastest and safest means to reach Shimla from Delhi (via Kalka). The progression of the train journey can be measured by counting the large painted numbers on the side of the tunnels. The first tunnel is at Kalka and 108 later the narrow gauge train pulls into Shimla train station.
Features of the Shimla - Kalka Railway
The Barog Tunnel (tunnel 33) is longest tunnel of the railway and is shrouded in misfortune and tragedy. The 1143 meter long tunnel of was designed and constructed by the British engineer T. Barog. During the construction of the tunnel Barog decided to reduce the time by digging the tunnel from both ends. There was a slight miscalculation and the two ends never met.
Another twist on the Shimla railway
The British government were infuriated by this massive mistake and humiliated Barog by fining him a single rupee. The embarrassment was too much for the already distraught Barog and he committed suicide close to his failed tunnel. Spare a thought for him as you pass through the two and half minutes of darkness at tunnel 33.
There are 103 tunnels along the railway
The most architectural complex bridge is bridge number 226 which spans a deep valley that is enclosed on two sides by steep peaks. This bridge was constructed in five stages with each level having its own stone arched tier. The bridge is an elegant piece of architecture but is difficult to see from the train carriages. The original cost for the railway was Rs 8,678,500 and the first public train service along the route was in 1903.
The high maintenance and running costs were crippling to the company who had originally constructed the railway and the entire rail network had to be nationalised in 1906 managed by the British/India government. The government bought the entire rail route for Rs17,107,748 in 1906. Since 1906 the railway has owned by the state.
Shimla India Navigation