Hanuman Statue, Shimla
Shimla has strong religious ties to the Hindu god Hanuman and it is fitting that the world's largest statue dedicated to the monkey god is stands on a hill overlooking the city.
The 33m high statue is positioned on the summit of Jakhoo Hill and the bright orange statue is at stark contrast to the lush greens of the pine cover hill.
Hanuman Statue Shimla Tourist Information
The Hanuman Statue of Shimla has become an iconic symbol of the region since its inauguration in 2010 and at night the statue is illuminate and can be seen for miles around. At the base of the statue is the Jakhoo Hill temple which is again dedicated to Hanuman.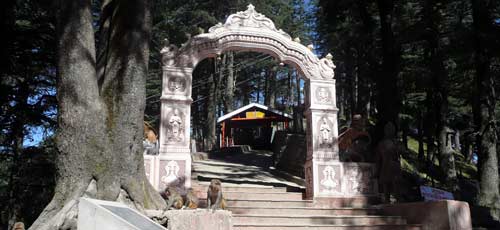 The path up to Jakhoo Hill
The Hanuman Statue Shimla cost $300,000 to build and was entirely funded via commercial sponsorship. The designers and architect want a monument to rival the Christ statue in Rio de Janeiro and the 33 meter tall statue certainly does. The Hanuman monument weighs 1,500 tons and is the tallest statue of Hanuman in Northern India.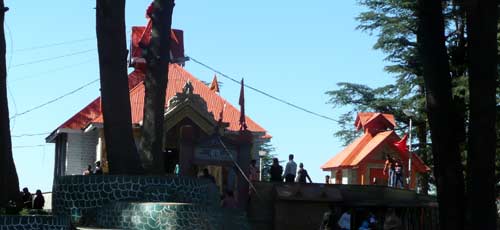 The temple at the summit of Jakhoo Hill
The Hanuman Statue Shimla can be reached by following the footpath to the east of the Ridge that leads to the tranquil summit of Jakhoo hill and the colourful Jakhoo temple.
The walk takes approximately 30 minutes and the summit is 200 meters higher than the central ridge of Shimla. On the accent be cautious of the monkeys who have a habit of searching bags and pockets. It is even possible to hire a stick to warn off the gangs of thieving monkeys.
Hanuman Statue Shimla Mythology
Shimla, and more correctly Jakhoo Hill, appears in Hindi mythology during the battle of Ramayana. A Lakshmana priest was fatality wounded and it was left to lord Hanuman to search for the special herb which could save his life. The herb was known to be growing in north India and during his search lord Hanuman landed on Jakhoo Hill.
His speed and altitude caused such an impact that the summit was completely flattened and all that was left after his continuation for the search of the herb was a single huge foot print. The Jakhoo temple was constructed on the place of the footprint and now there is a life size statue to commemorate his appearance.
Shimla India Navigation