Scandal Point, Shimla
Scandal Point is located to the western edge of Shimla where two of the city's most important roads, The Ridge and Mall Road, converge.
This pleasant small square which is over looked by the mock-Tudor state post office has the bizarre name of Scandal Point and where there is an intriguing name there must be an equally gripping story, which sadly, can be only loosely based on facts.
The tale of Scandal Point, Shimla
The tale of the Scandal Point involves the Maharaja of Patiala, Bhupinder Singh who was regarded as a charismatic and charming character and the impressionable daughter of the British Viceroy.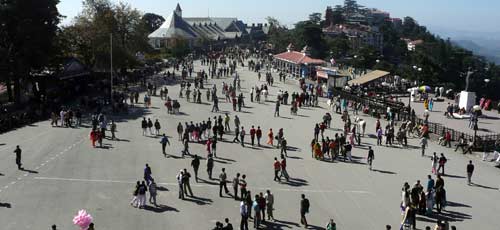 The Ridge of Shimla at is a popular place
The young girl was forced to leave the comforts of England but once at Shimla fell for the charm of the Maharaja. The tale goes that the couple eloped together in 1892 after meeting at Scandal Point.
More dramatic reincarnations of the story told by enthusiastic tour guides tell that the young women was kidnapped by the Maharaja from Scandal Point.
The historic buildings in Shimla
This either kidnap or elope did not go unnoticed by the British Viceroy (Lord Kitchener) who with his power or influence could have had the Maharaja severely punished.
The punishment he choose was only to expel the Maharaja of Patiala from Shimla, where upon the Maharaja constructed his summer capital 50miles away in Chail.
The Truth of Scandal Point
Parts of the tale are true while others sadly are not. Bhupinder Singh became the central character to the tale as he had a justified reputation as a womanizer and extrovert who married many wives.
It is also true that the Maharaja did infuriate and even enrage Lord Kitchener who forced him out of the summer capital of Shimla. In an act of defiance the Maharaja relocated his summer capital to the small town of Chail in 1891.
Stunning Shimla
There is doubt of Bhupinder Singh's age at the time of the scandal some records indicate that he was only a baby at the time of the kidnap. One interesting side note which is possibly the origins of the story is that Bhupinder Singh's father, Rajindra Singh, had an English wife.
The place at Chail also has the inscriptions of RS indicating Rajindra Singh had the building constructed. The truth of the story has been lost over the time so all that remains is more scandal over Scandal Point.
Shimla India Navigation