Christ Church Shimla
The Christ Church Shimla is the second oldest church in northern India which was constructed in the Neo-gothic style. This style was popular in England during the Victorian era and reminded the foreigners of their home towns.
The church is painted a light yellow colour and stands at the eastern end of the main street of Shimla called the Ridge. The neo-gothic church would appear completely out of place in any other Indian city but fits in perfectly with the yesteryear charm of the city.
Christ Church Shimla Tourist Guide
The Christ Church Shimla may have been the second church constructed in North India but there was certainly no rush for its completion. The first stages of the foundations were started in 1844 but the church was not consecrated until 1857.
During the British Raj era the church was regularly attended by the Viceroy and the nobles of British aristocracy. The Viceroy's pew at the front of the church was clearly marked and this small inscription is still visible today.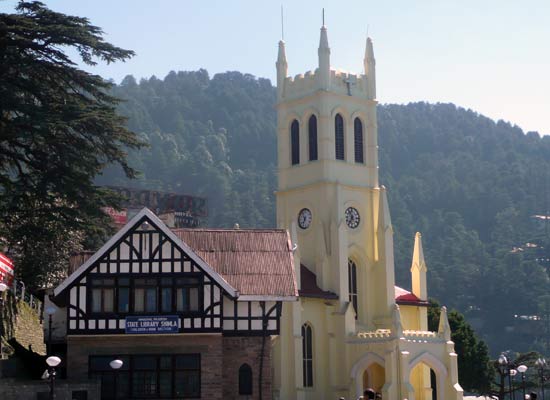 The British Raj Christ church and mock-Tudor library
History of the Christ Church Shimla
The chief architect was a military colonel; J. T Boileau but much of the actual construction of the church was native Indians. In 1860 the clock was added to the main tower as a gift from Colonel Dumbleton.
The final addition to the Christ Church Shimla was the porch in 1873. Inside the church are 5 stain glass windows, each of which represents the 5 virtues of Christianity (charity, fortitude, patience, humility and hope). The church was extensively damaged during the harsh winter of 1961 when Shimla was completely cut off due to unprecedented snow falls and cold temperatures. The weight of the snow sheared off the pinnacles that ran the length of the roof.
The Christ Church Shimla neo-gothic tower stands high above the city and can be viewed clearly from the south side of the city. The church now has a rival for the skyline dominance with the construction of the vivid orange statue of the Hindi god Lord Hanuman situated directly above the church on Jakhoo Hill.
Shimla India Navigation