Shimla's Monkeys
The Monkeys of Shimla are not pleasant animals, they roam around in gangs looking for the opportunity to rob tourists of their food or any other item which catches their eyes.
The situation has deteriorated so much that visitors to Jakhoo temple must rent a substantial stake with which to threaten Shimla's monkeys.
Without the deterrent of the stick expect to have pockets and bags rummaged through no less intensely than by a human criminal.
The Monkeys of Shimla
Visitors who have not been initiated in the possible aggressive behaviour of monkeys seem surprised by the nature of these intelligent animals and it is this intelligence that has led them to understand tourists are easy pickings for food.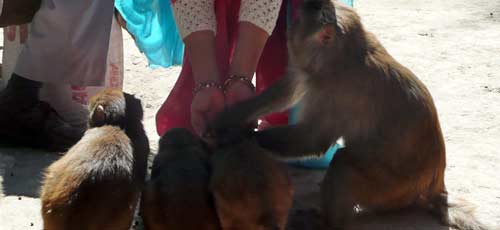 Feeding the monkeys of Shimla
While climbing the steep path of Jakhoo Hill adult monkeys will run up and place hands in pockets or attempt to take small bags on the hunt for food. It has also been known for monkeys to steal shiny objects including cameras and wallets!
Jakhoo Hill Shimla Tourist Guide
The summit of Jakhoo Hill Shimla is 2,455m and approximately 200m higher than the central ridge of Shimla.
The route to the summit follows a 2.5 km footpath with long sections of steps this walk is invigorating in the clean and crisp mountain air of spring and autumn but challenging during the height of summer.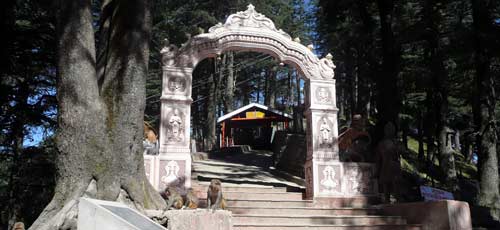 The path up to Jakhoo Hill
The monkeys of Shimla have learnt that tourists are easy pickings for food. Halfway up the path it is possible to rent sticks which are used to threaten the monkeys and prevent robbery.
Visitors who do not possess a stick will have their pockets and bags rifled through on the hunt for food. It is very appropriate that Jakhoo Temple is dedicated to Hanuman, the Hindu monkey god, as the monkeys rule Jakhoo hill.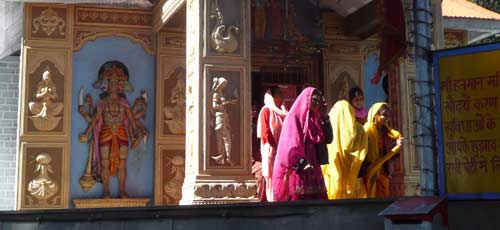 The colourful Jakhoo temple
The summit of Jakhoo Hill Shimla is flat, wide and cooling from the shade of the numerous tall pine trees that add to the tranquility atmosphere of the location.
From the summit there are great views to the north over the Shivalik mountain range of the Himalayan foothills and west over Shimla.
Shimla India Navigation